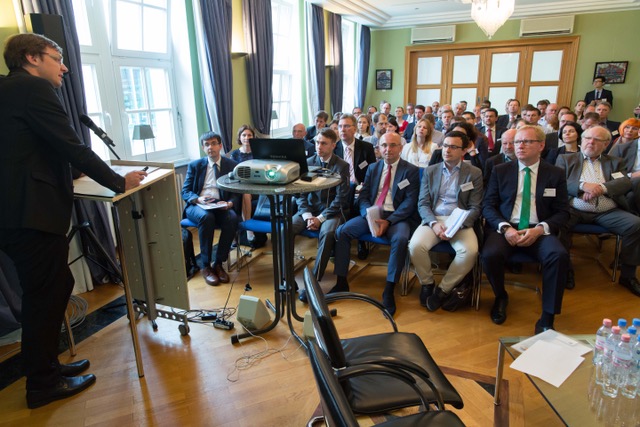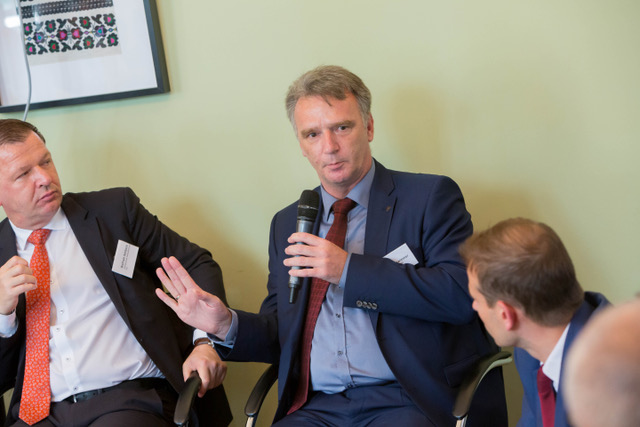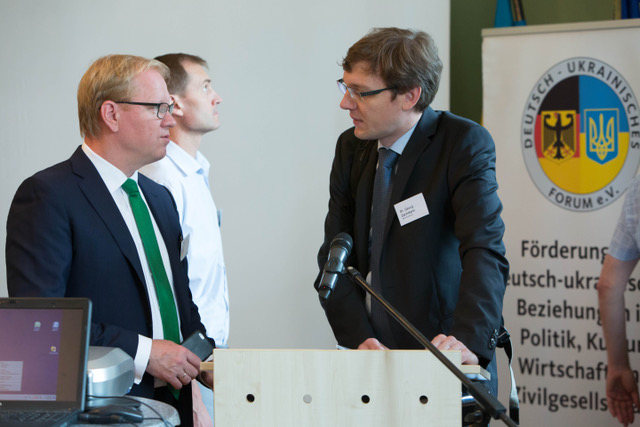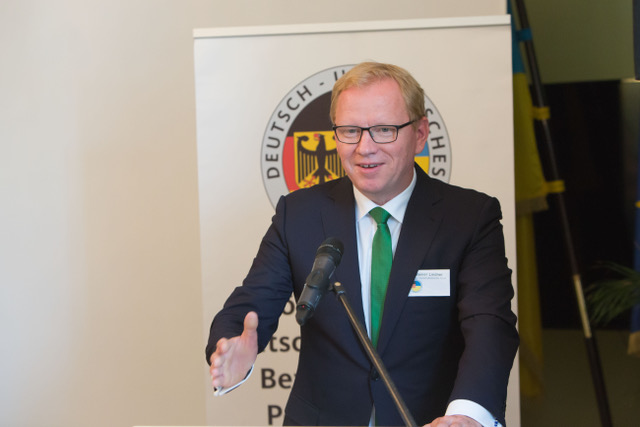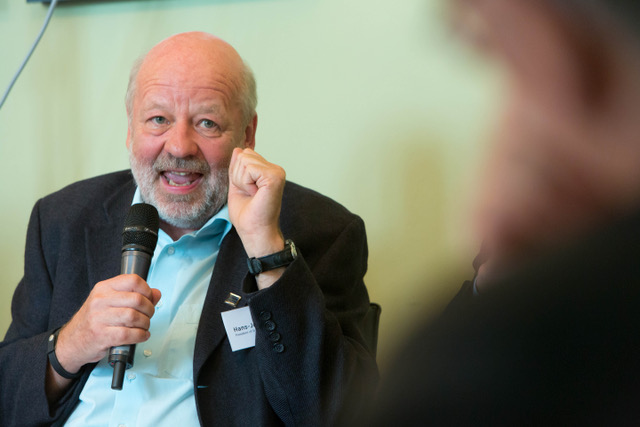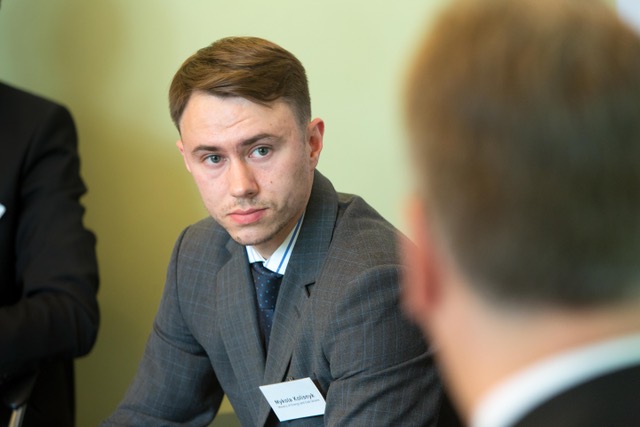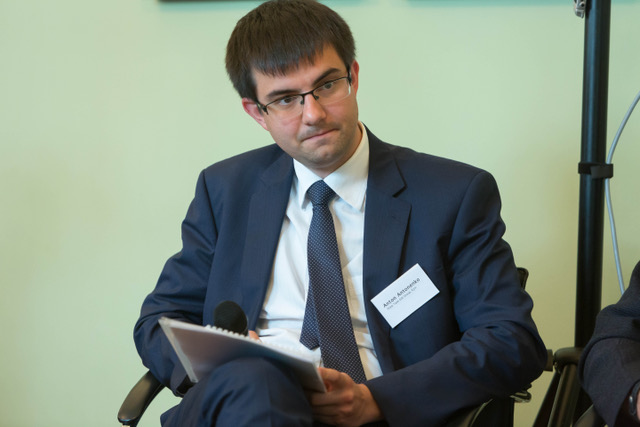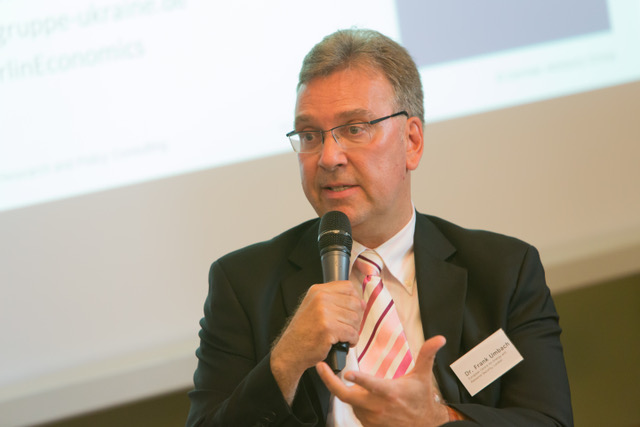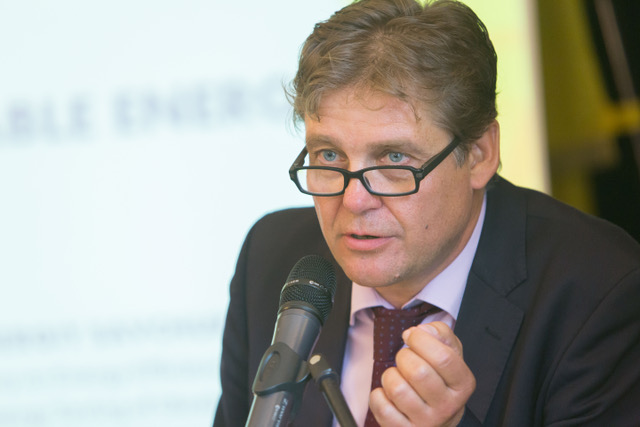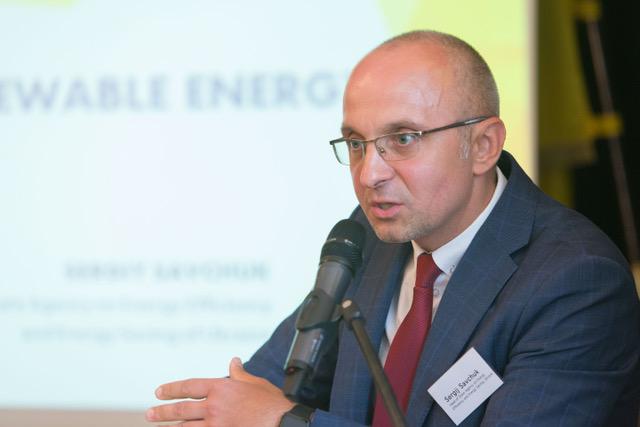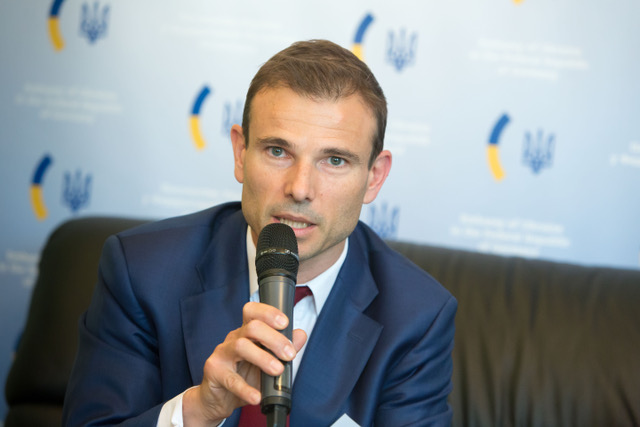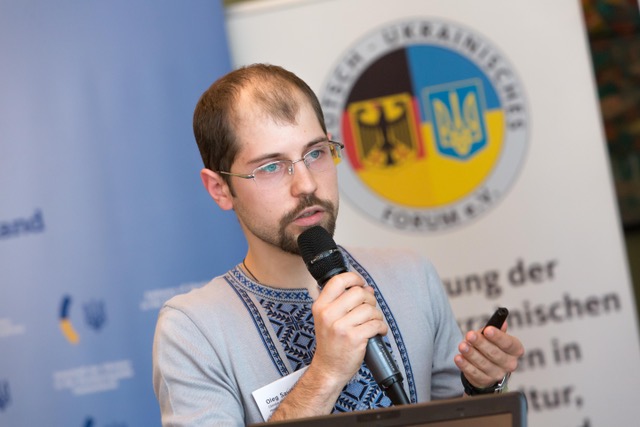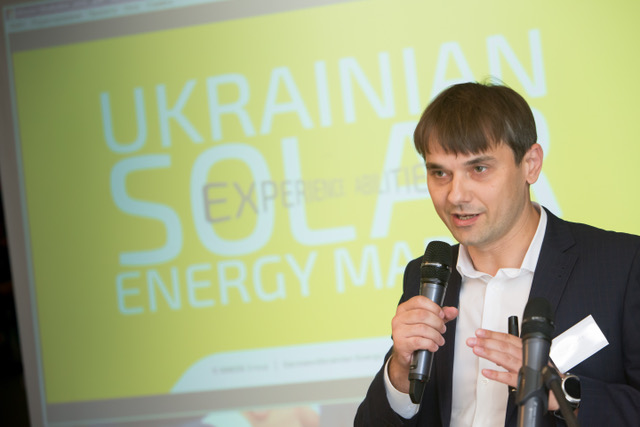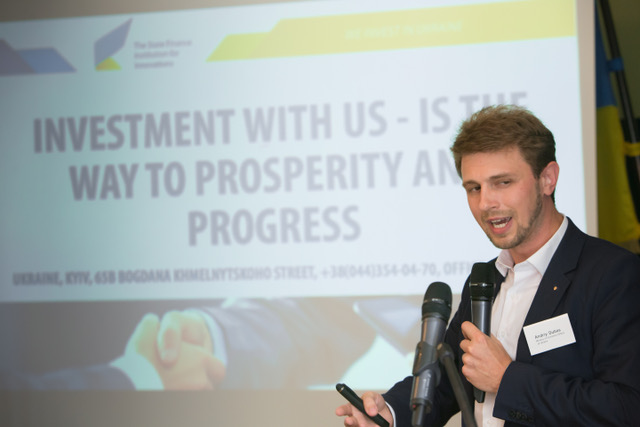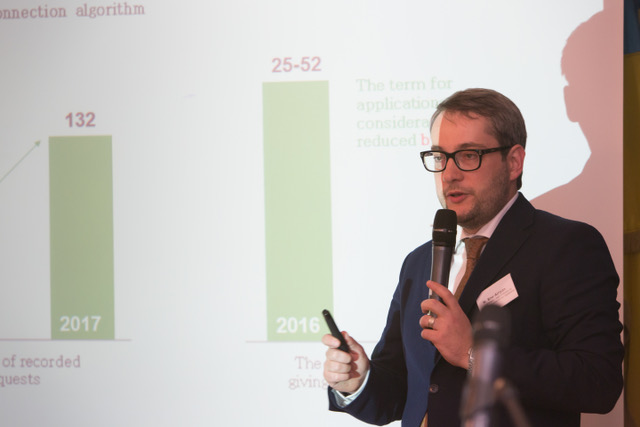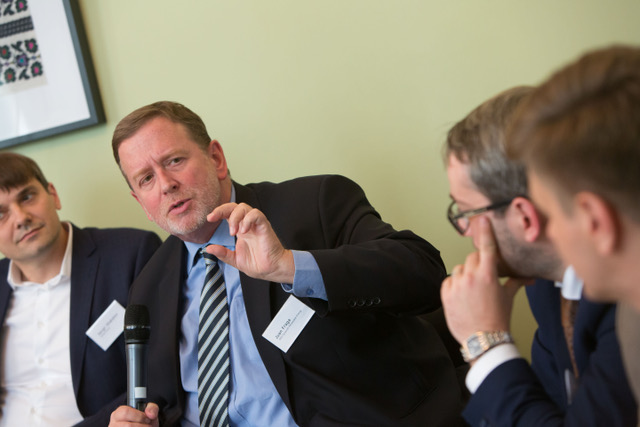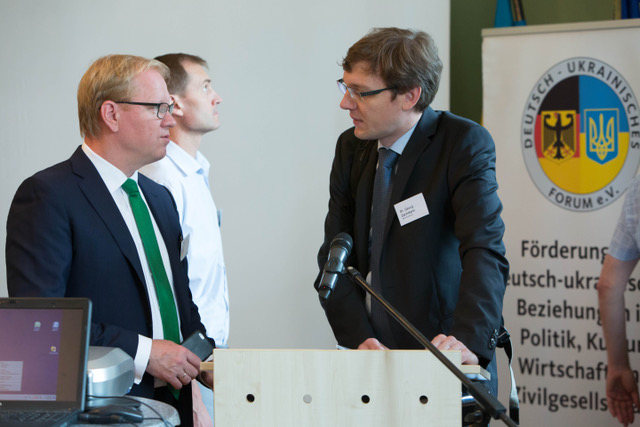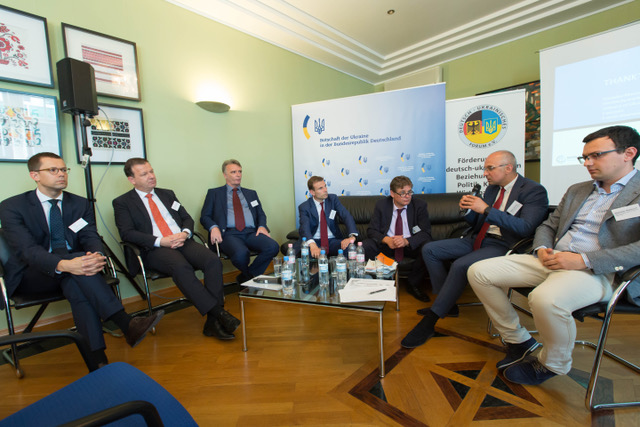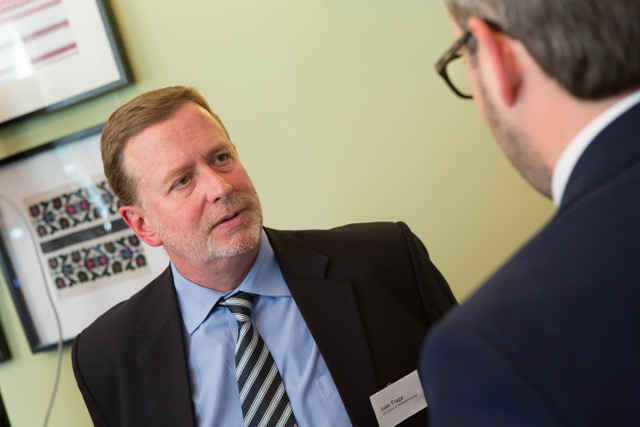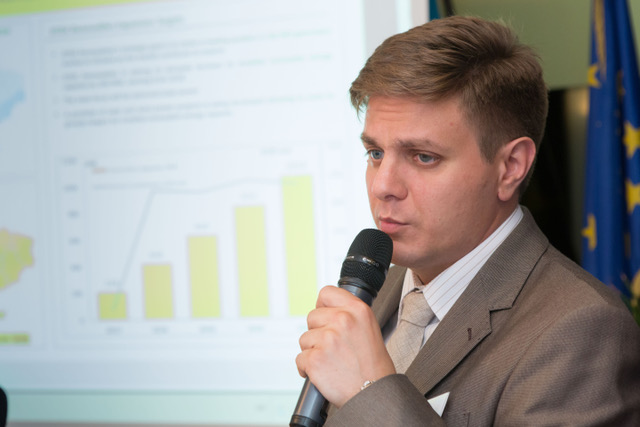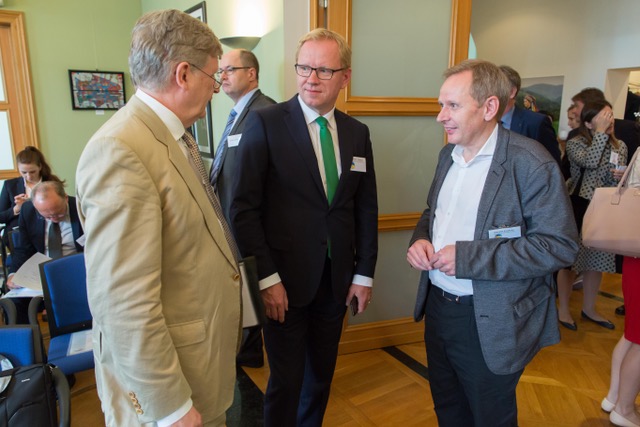 The Expert Roundtable of our German-Ukrainian Energy Symposium on June 27th in Berlin – with the support of the Embassy of Ukraine in Germany – brought together representatives from industry, governments, financial and research institutions from Ukraine and Germany to give an overview about the potential of Renewables in Ukraine and a future energy strategy. Around 80 guests attended our symposium, mostly representatives of companies active in Renewables, Politicians, Journalists, Diplomats and Experts. Fotos: Stefan Trappe for Deutsch-Ukrainisches Forum e.V., CC- free for use in social media and on websites find more photos here at Flickr

Here a first overview:

Still the State of Ukraine is highly depending on energy imports from other countries. Power generation is dominated by coal and nuclear, renewables are playing only a minor role in the whole energy mix of the country. Nevertheless, the potential of renewables in Ukraine is very high and could make the country totally independent from energy imports and traditional energy sources within one decade. The Kyiv Institute of Renewable Energy estimates the potential of alternative energy to 81 million tons oil equivalent annually. This corresponds to 520 billion kWh electricity and is equivalent to 2.5 times of generated electricity by Ukraine in 2011. Since the start of a transparent support program in 2015 the market emerges rapidly. Actually Ukraine has already 1,6 GW capacities in Windpower and Solar energy. With DTEK (Andrey Petrov), the Kness group (Serhii Shakalov) and Ukrenergo (Mykhailo Bno-Airiyan) three main players in the emerging market for renewable energy in Ukraine took part on our Symposium in Berlin. Dr. Georg Zachmann, Energy Expert of the German Advisory Group with the Government of Ukraine (Beratergruppe Ukraine) gave an overview over the rapidly changing energy market in Ukraine. Mykola Kolisnyk (Head of Division for International Relations, Ministry for Energy and Coal Industrie of Ukraine), Dr. Frank Umbach (European Centre for Energy and Resource Security, London), Hans-Josef Fell (Energy Watch group) and Anton Antonenko (Vice President of Think Tank DiXi Group, Kyiv) discussed about the security issues of an Energy change in Ukraine. Sergij Savchuk, Head of the State Agency on Energy Efficiency and Energy Saving of Ukraine spoke about the opportunities for foreign investors in renewable energy in Ukraine, Julien Mauduit, Senior Banker of the European Bank for Recontruction and Development (EBRD), which supported already 12 investments in renewable energy in Ukraine, gave an overview of the EBRD strategy. Stanislav Masevych (World Bank Project) spoke about the World Bank support for Renewables in Ukraine. Wolfram Rehbock, Attorney-at Law in Kyiv (Rehbock&Friends) and Christoph Schönwiesner, a german solar energy expert in Ukraine, talked about the difficulties for investors and demanded especially better finance conditions of investments. Mykhailo Bno-Airiyan (UKRENERGO), Andrey Petrov (Windpower LLC of the DTEK group) and Serhii Shakalov (KNESS group), representing the three biggest investors in Windpower and solar energy in Ukraine talked about their actual and future project, all three companies are realising actually new huge projects. Andriy Dubas (State Finance Institution for Innovations of Ukraine) spoke about the activities of his institution in supporting the expansion of Renewables in Ukraine. Oleg Savitsky, Climate and Energy policy expert and Consultant of the Heinrich-Boell-Foundation demanded a consequent energy change in Ukraine and Juan Fraga, CEO of Dynavolt Renewable Energy Europe gave an overview over the potential of solar energy for Ukraine. Michael Hackethal,Dept. Head of the Division for international Cooperation on Energy at the German Federal Ministry of Economic Affairs and Energy represented the german Government in the discussion.
Here some to the participants Powerpoint-Presentations for download (Dropbox-Link):
Andriy Dubas, State Finance Institution for Innovations of Ukraine – about why to invest in Renewable Energy in Ukraine:
Dr. Georg Zachmann, Berlin Economics and Beratergruppe Ukraine about the rapid change in the Ukrainian energy market and the reforms since 2014/15.
Serhii Shakalov, CEO and counder of KNESS Holding, Ukraine, about the aktivities von KNESS in Renewable Energy in Ukraine.
Stanislav Masevych, Electricity market specialist of the World Bank Project at the Ministry of Energy and coal industry of Ukraine about the conditions von RES producers on the Ukrainian electricity market
Oleg Savitsky, Heinrich-Boell-Foundation, about the decline of coal in Ukraine the the opportunities of the energy crisis.
Mykhailo Bno-Airiyan, National Power Companiy UKRENERGO, about the #gogreen – Renewable programm of UKRENERGO
Sergiy Savchuk, head of the State Agenye on Energy Efficiency and Energy Saving of Ukraine (SAEE) about the Ukrainian National Action Plan on Renewable Energy of 2014 – and the first results today.
Andrey Petrov, Head of Economy and Finance Department of Wind Power LLC (DTEK group= about the activities of DTEK in Renewable Energy in Ukraine.
The German-Ukrainian Forum (Deutsch-Ukrainisches Forum e.V) thanks Mr. Christoph Ernesti for the excellent event management and The Embassy of Ukraine in Germany, Mrs. Koslovska, Mr. Budnychenko and H.E. Ambassador Andrii Melnyk for the sucessful cooperation.

A detailed report about the main discussions and presentations will follow…
Gerald Praschl/Deutsch-Ukrainisches Forum e.V.